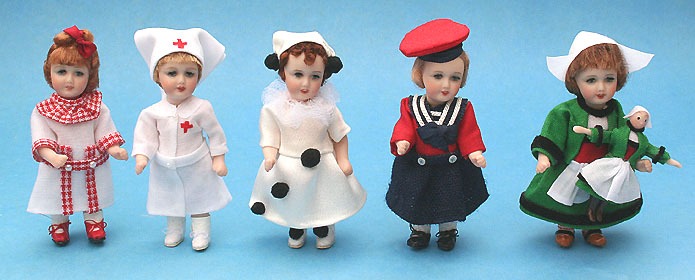 I just have to post about this precious little mini Bleuttes made by Lucie Winksy. They are on my list of precious things I really want. I do not do much collecting of late...feel to guilty buying such frivolities when I have 3 kids now....but I have to find a way to get one of these special little dolls.
Lucie Winsky has been creating porcelain dollhouse dolls since 1988. She is an IGMA Artisan and a Certified Doll Artisan through the Doll Artisan Guild and has won several blue ribbons in their doll competitions. Lucie sells finished dolls and doll parts through her web site for collectors and doll makers. She first learned how to make antique reproductions of larger dolls and enjoys reproducing them in miniature. Her specialty is reproductions of Bleuette at 2 3/8 inches tall. To buy one of these little gems for your collection see Lucie's website at:
Lucie Winsky Dolls
Who is Bleutte?

The original Bleuette (measuring 27 cm. (10 5/8") in height) is a doll that was offered to young girls in France from 1905-1960, and was only available through La Semaine de Suzette, a weekly periodical for girls. The magazine was filled with games, crafts, recipes and stories along with patterns to make clothing for Bleuette. There were more than 1,060 patterns published over the 55 years Bleuette was produced. She was the Barbie doll of her time. Several different heads were produced during these years, the most popular being the 301.

Here is a picture of the large Bleuette holding a basket of Lucie's mini's: