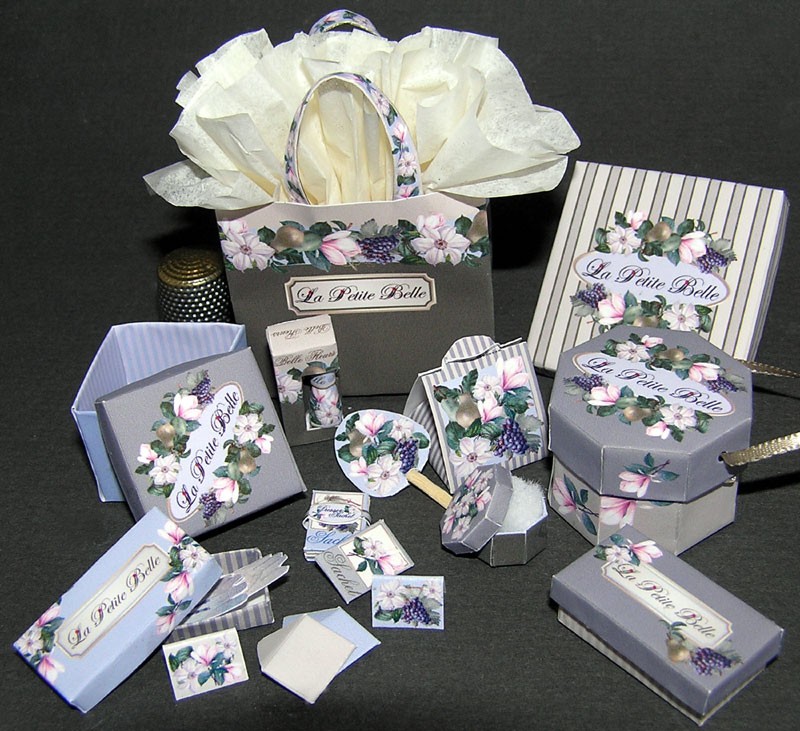 In December of 1962, the pop artist Andy Warhol was asked in an interview, "What do your rows of Campbell's soup cans signify?" Warhol responded, "They're things I had when I was a child"...and that is exactly what my Paper Minis™ artwork signifies to me. Paper Minis are an expression of the warm fuzzies of my childhood, and are a form of Pop Art but are easier to carry around than a large silk-screened canvas of a can of soup.
Many of my creations were inspired by childhood and other life memories. For instance, the vintage Paper Minis™ remind me of visits to my grandparents in Missouri and to my Great Grandma Woo in Kentucky. The McDonald's fast food items and vintage place mats remind me of when we returned from our tour of duty in France in the 1960s and discovered these new fun places to eat popping up everywhere along the highway to Missouri, Paper Minis represent events and memorabilia that are close to my heart.
I never focused on the fact that I was drawn to miniatures until 13 years ago. How did that fact go unnoticed? My younger sister, Cordelia, is actually the force that got me started on Paper Minis™. She has spent years populating a wonderful Victorian house our Father built for her as well as many room boxes. One day she showed me her latest dollhouse accessories purchase. I was impressed, but felt that the little kitchen groceries could be improved. Having worked as a graphic artist for many years, and with Cordelia's encouragement, I quickly became obsessed with creating the perfect 1:12 scale miniatures. A task that took many years longer than I thought it would. The resulting Paper Minis'™ process is my special "secret recipe;" 10 years to figure out how to bring out color, texture, crisp lines and readable typesetting at a scale 1/12th our human size!
If you have been following Paper Minis™ over the last several years on-line (from the end of 2002), you know it has been an interesting journey. Paper Minis'™ format has run the gamut of high-tech on-line downloading...to honor-system on-line downloading...to auto-executable CDs. Paper Minis™ became known all over the globe, and how exciting for me to have e-pals from as far away as Australia! My next logical step in developing Paper Minis™ products was to develop pre-printed, pre-cut kits. Armed with a new computerized cutter I was cutting morning, noon and night. All that labor meant higher priced Paper Minis™ and took me away from the creative part–designing!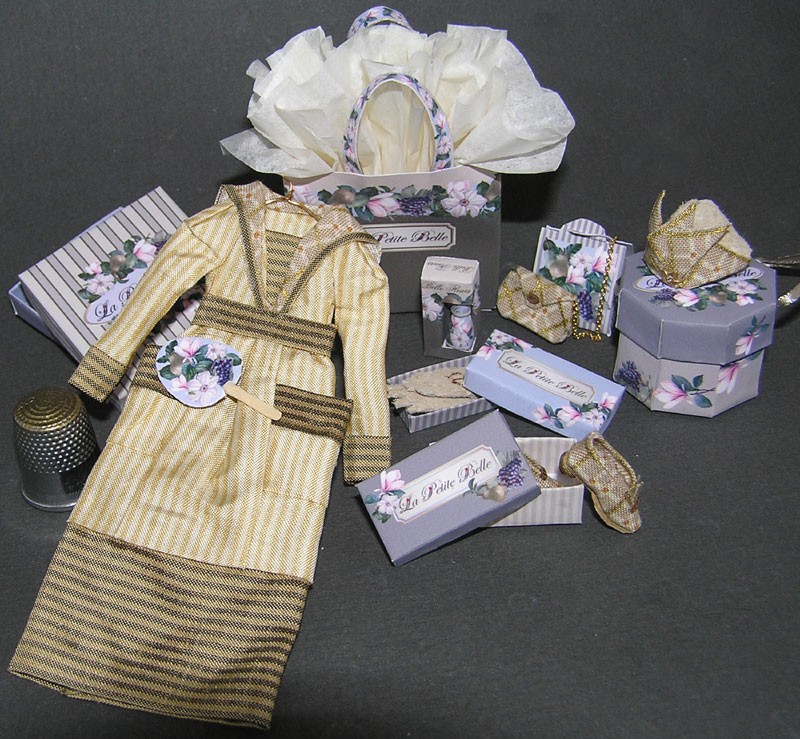 Then came the light-bulb moment. From customer feedback, I learned hobbyists like to cut their own Paper Minis™. It's therapeutic (translation: fun). So back to the drawing board I went and shortly thereafter Paper Minis™ Cut 'n Glue Kits were born and were well received. In tandem with the Cut 'n Glue Kits, I spend a great deal of time writing the Paper Minis News™ newsletter and designing monthly sample projects in many doll scales. These are enjoyed by literally thousands of club members. Keep them safe in one or more of the little mini vignette shadowboxes available through Paper Minis™ printie CDs. I think you will enjoy making Paper Minis™ as much as I enjoy designing them. Collect one each month and sign and date the bottom.
To join Ann of Paper Minis Newsletter and see her on line catalogue of cut and glue miniatures visit:
paperminis.com
What can you do with Ann's Paperminis? Well, we teamed up a while back and made some cute kits together. With the fabrics at Doll Artist's Workshop (
minidolls.com
) La Petite Belle Patterns (
minipatterns.com
) we've created some cute projects. These are for vignettes and accessorizing a doll house not made to fit a doll.
Ann's Magnolia's accessories and LPB #2015. I called this Shop 'Til You Drop.