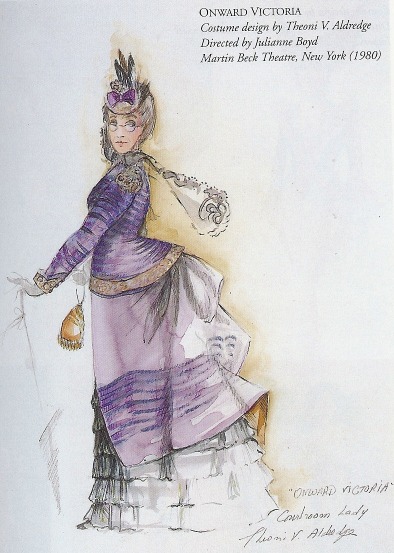 What happens when two very different doll artists get together to create one doll? The results can surprise and delight you. Nancy Cronin is a miniature doll sculptor extraordinaire. When I asked her how she got into sculpting she said what most of us say, " I have been doing something with my hands as long as I can remember!" Isn't that the truth! After working with Nancy on the kitchen witch project, she asked if I could dress a wee figure for her. I asked her to send it on, and asked what period, colors and styles she liked. Her answer, "Surprise me!" Our work is so different, Nancy makes wonderful, little witchy styled ladies and faces with so much character. I make ladies that are perfect mannequins for pretty and fancy clothes AND I need someone to tell me what they want. There is not an original bone in my body! But to no avail, Nancy remained firm. "Surprise me!"
I went to work on something that would make her happy and I would also enjoy. I happened on a costume drawing Throne V. Aldridge had done for a play titled
Onward, Victoria
and as sure as the picture was on the page, she became my inspiration for Nancy's lady. I have included pictures for the costume design and the finished figure. I was so excited and delighted. I sent the figure off and Nancy was not expecting her at all. As soon as she was unwrapped Nancy called me. She was as delighted as I. So, all my doll making and costuming friends out there, keep an open and positive mind and I'll be something wonderful will happen. We sure think it did.
Kathi