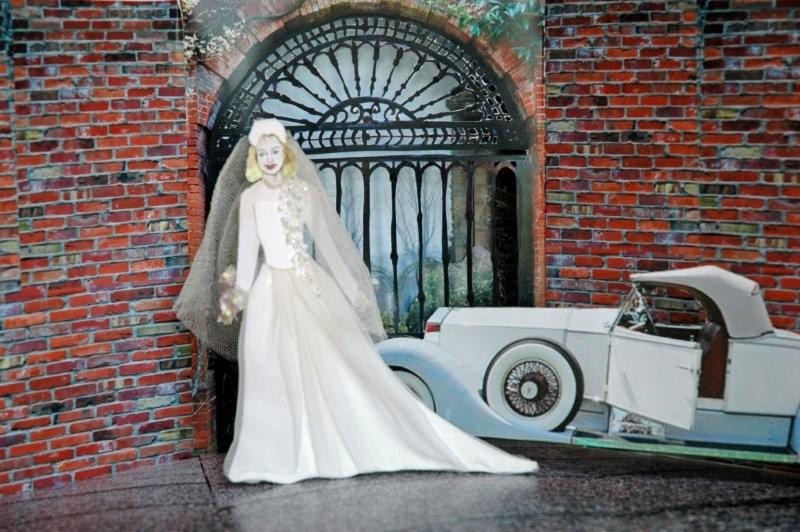 The rules of the project allowed that we were able to make some minor changes to the paper doll itself. We could change arm position or make small adjustments but were to use this doll's face in unchanged form. The only change I made to the doll was shorten her hair about 1/8" on both sides and I would like to have eliminated her undergarments as the bustier limits the neckline. I printed the figure on cardstock and painted her skin and features. The shoes, painted in flesh leaving the leaving the undergarments white.
The bridal garment is an advertisement for I. Magnin in the 1940's. (I cannot remember the exact date.) I loved the picture. The foundation of card was covered with silk, and then chiffon, with some punched paper flowers filling out the stream of flowers across the bodice front. Small velvet flowers are her bouquet. The veil is a removable hat, like a tent card, with silk illusion streaming over her shoulders.
The high style 40's gown with fur is a photograph from "Fashion Design in the Movies". (I would love to give you all the specifics but my book is currently packed up, how frustrating.) I also used cardstock as the base for the gown construction. I chose a beautiful silk and metallic jacquard, but the layers needed enhancement. I tried a different technique by tracing all the layers onto the cardstock and cut them out. I covered each layer with fabric and glued it on the previous layer creating some dimension and shadowing for the folds of the skirt. The fur portions were set aside, and then covered with faux fur fabric and glued in place. I trimmed the fur sections to appear like the original gown.
The necklace is glued gems onto cardstock cut into the shape of the original necklace in the photograph. Place the necklace on the paper doll just like a 2 dimensional paper doll accessory. My model is ready for her fashion shoot.
She stands along side her Rolls and is ready for her picture.
Kathi R. Mendenhall, IGMA Artisan, La Petite Belle Patterns
minipatterns.com