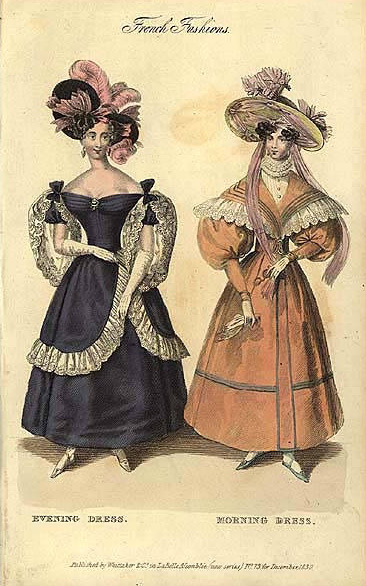 The neo-Gothic influence in fashion history dress fashions was at its peak during the Romantic Era between 1825 and 1835. The romantic spirit in fashionable dress lasted until the late 1840s.
The silhouette for women during this time is characterized by a waistline moving down from under the bust to several inches above the natural waist, fuller skirts with increased decoration at the bottom, and a wide variety of sleeve types.
A notable feature in women's costume of this period is the variety of sleeve styles that were popular. The types seen in this collection are the marie-sleeve (full sleeve tied at intervals with ribbon); the imbecile or idiot sleeve which is extremely full from the shoulder to wrist, and the demi-gigot (full from shoulder to elbow, then fitted to the wrist). The Beret sleeves were cut from a circle. There was an opening in the center for the arm and this was gathered and bound into a band. The outer circle was gathered and set into the armhole. Sometimes a sheer over-sleeve of silk embroidered shimmering gauze covered the beret puff. Generally the beret sleeve was worn for evening.
Hair was worn parted in the middle, with the back arranged in a knot, and side curls beside the face. Bonnets were popular headgear during the day. Men wore tight fitting trousers or pantaloons, coats nipped at the waist, and top hats. It was customary for the trousers, waistcoat, and coat to be different colors.
Michelle