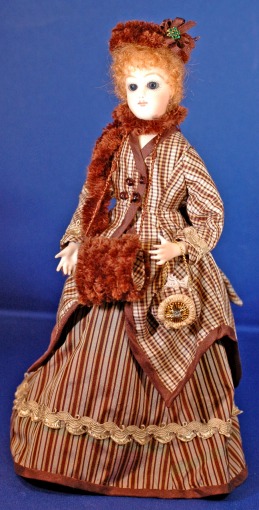 Miniatures are so often "French Hand Gluing" as Susan Sirkis says in her Wish Booklets. So, how does one who sews keep their skills up? By making clothes for larger French Fashion dolls. Here is an 8 1/2" French Fashion (Jumeau reproduction) The fabric was a large human size plaid, so I made the skirt and the jacket from different portions of the plaid. It turned out really nicely.
This dress was made from a Susan Sirkis pattern published in Doll Costuming published March 2003.
The magazine is now Doll Crafter and Costuming.
http://www.dollccmag.com/

What fashionable lady would be caught without her "fur" accessories? She has a chenille pillbox hat, stole and muff. The purse completes the ensemble. Oh, yes, the "buttons" are genuine amethyst beads. She sets the pace of the time!
Kathi