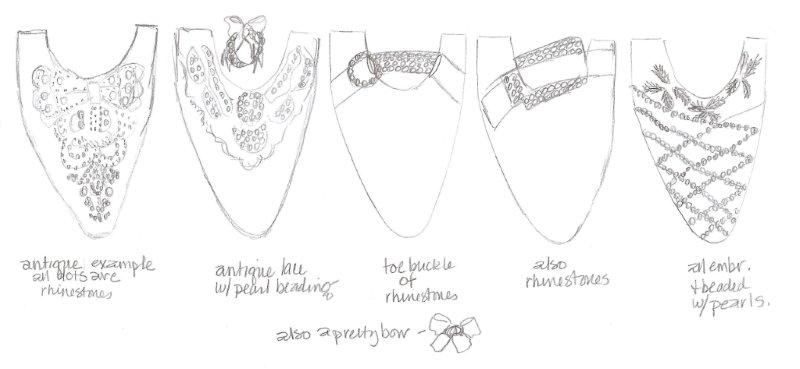 Well, my friends, I have to think about all sorts of things now. I usually plan something down to such detail my friends think it takes all the fun out of it, but I say, "Not!" I started working on her shoes thinking I would go the vintage, or even antique, route, but the young woman said, "No!" No matter what I did, she really wanted to wear something a little more comfortable and contemporary. I had two nice toe decorations planned from an antique shoe and one from a vintage shoe. I went to the internet, entered "bridal shoes" into the search engine, and low and behold found some delightful shoes she thought would be excellent with her Grandmother's gown. I cannot show the picture of the inspiration shoes as they have copyrights, but what I did is some shoe drawing on my own. That will give you some idea of where I am going with them.
The shoes are on her feet partially. I did sculpt and cover her heels. (No more standing pins showing.) Her toe and heel are in place. She needs the finish decoration and the soles added. My decision problem stems from the dress design. I still do not know if I will decorate with beading or stones. Until I make a decision, the shoe decoration and sole have to wait. Will it be the design with antique lace and pearls, a tidy cute bow, rhinestone buckle and a rhinestone ankle strap? That leaves me today to share with you some simple designs and now we wait again for the shoes. In the meantime, I will get to her "long line bra" and slip. Then I must make a final decision about the dress. Is it full on Grace Kelly or something similar? I am really leaning to a lace gown, but I change my mind often.
Hang in there and more to come. Thanks for reading and watching.
Special note: I have been reading the comments and know it is good form to respond. For some reason, my last response is not showing. I have no idea how to be a good blogger apparently. So, please forgive me while I learn how to respond. Also, I am dyslexic (for real, not just making a joke of it) and have a time of getting past that code entering thing. I'll get the hang of it, I promise.
Kathi