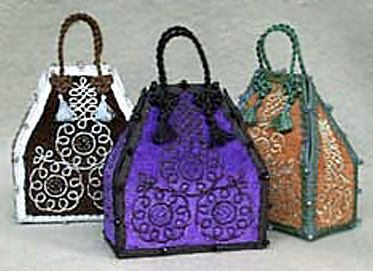 Tuesday was my busiest day! I was up and showered and ready for a workshop given by Alice Leverett. (www.justalice.com) the item we were to make was a Saque du Voyage, see picture. I borrowed her picture from the UFDC site as I have not finished my little luggage yet. (I ran out of thread! Not her fault, mine. I will buy more soon.) The class was great, a moment to catch up, learn a technique and meet new friends. Of all the wonderful color choices I chose black velvet with an olive edging. (I will post a picture when I do finish, which will be soon.)
After class I went to lunch, I really did like a salad at the hotel called, remarkably, Salad Bowl! It had all kinds of fresh spring greens, green beans, garbanzo beans (chickpeas), candied pecans, carrots, cucumbers and for a small fee a grilled chicken breast. Fresh bread and butter were delivered as a compliment. A tall glass of iced water and I was set.
I had the pleasure of sharing a luncheon conversation with Barbara Marshall of the Toy and Miniature Museum of Kansas City. (http://www.toyandminiaturemuseum.org/) Just speak to the people around you I say, what a rewarding conversation that was. She is delightful.
After lunch I registered to take pictures of the competition showroom and the special exhibits, attended a seminar of the Diversity of All Bisque Dolls, attended a meeting and sat in awe and watched as the items donated to the Bid & Bite auction went to enthusiastic new owners.
Stay tuned for more.
Kathi
P.S. I talked about the food in this one.
Kathi R. Mendenhall, IGMA Artisan
La Petite Belle Patterns
http://www.minipatterns.com