Dear Readers,
Kathi and I have had a CRAZY October. But I just had to do this one task that has been ridiculously late. It is the latest Chapter of the Emily Claire Journal. You can read the entire journal by following this link:
Emily Claire Journal
. It is in reverse order so start at the back and read forward. Thank-you for your patience. We have much new things coming up that were are excited about
(hint NEW fabulous doll kit)
.
Thank-you for your patience!! Michelle Mahler
minidolls.com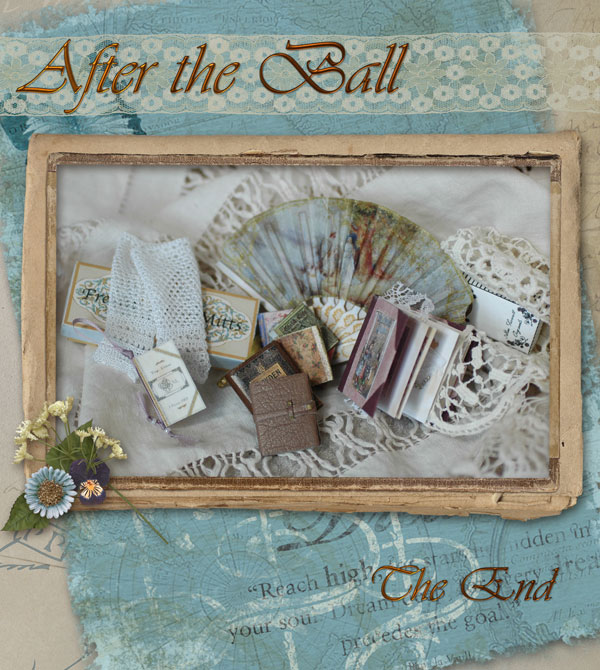 Accessories are the fun part of collecting and playing with dolls. They reflect and mimic every part of our lives. Whether you buy them or create them from a kit or your own talented hands, be sure to include accessories in your collection. Seen here are pieces of my collection; the fan from the talented hands of Alice Leverett and the dance card completed by me from one of her kits. Alice Leverett Originals and kits purchased at justalice.com. Mitts by Carole Sharp, Dance card from kit by Alice Leverett (justalice.com) , Diary and books by Kathi Mendenhall(minipatterns.com), Fan by Alice Leverett, fabric scrapbook - scrapbook kit from Ann Vanture of Paperminis (paperminis.com) and scrapbook completion and idea by Kathi Mendenhall.
Diary Entry
Dear Diary,
This spring has been a whirlwind. I continued my stay long after mother and father returned home. James and I became a pair throughout the celebrations and parties and we have developed a congeniality and affection between us. I remembered wonderful moments as I packed today. My beautiful fan, handmade, packed in its box, fluttering stilled until another day. I pressed a kiss with my fingers to a written name in my dance card and waltzed it across the room to place in my trunk. I travel home today and will return at summer's end for the wedding. Sarah is so happy!
And I? I am happy, too. James is escorting me to the train station and will visit in the coming month.
The future starts tomorrow! I cannot wait…



The End