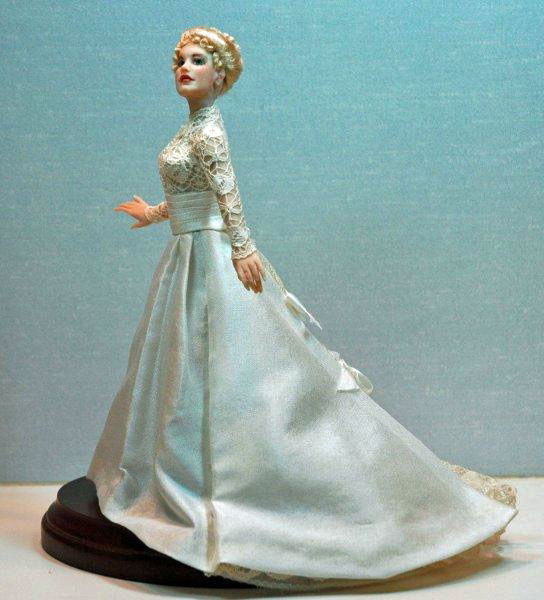 We are nearing the end of this project and I hope you are getting as excited as I am. It has been fantastic and a great learning endeavor for me. I have not finished, not by a long shot, but it is so nice to see her fully clothed. To achieve the skirt I changed my mind a few times, made things a few times, and finally, got to this point. So far, I am pleased. I will not point out a mistake in case you cannot see it for yourself. I will endeavor to fix them as I go forward. (Pictures tell an awful truth.) My final decision was to use a Thai silk taffeta. I like the body better and the color, too. Compared to the rest of the dress, this was "easy". (Well not actually easier, but less difficult to make than any other part). The side pleating attached to the lace dress ruffles will help hold the skirt in shape. Before completing the entire look, I will steam the skirt and parts into shape. Three bows hold the skirt back together. I have stitched them for security. I will have to make a new stand for her, as she needs a stand to support the entire dress and veil.
Please notice she has a simple, but pretty, hairstyle. I have pulled her hair away from the face in a classic style, but finished her bun in ringlets and inserted pearls.
Now it is time for more decisions. Do I make a lace hat, like Princess Grace? A tiara, perhaps? I just do not know. I must pause to make decisions on jewelry as well. I have an idea for the veil that requires some testing. Therefore, stay tuned, and we will see how it plays out together.
Kathi