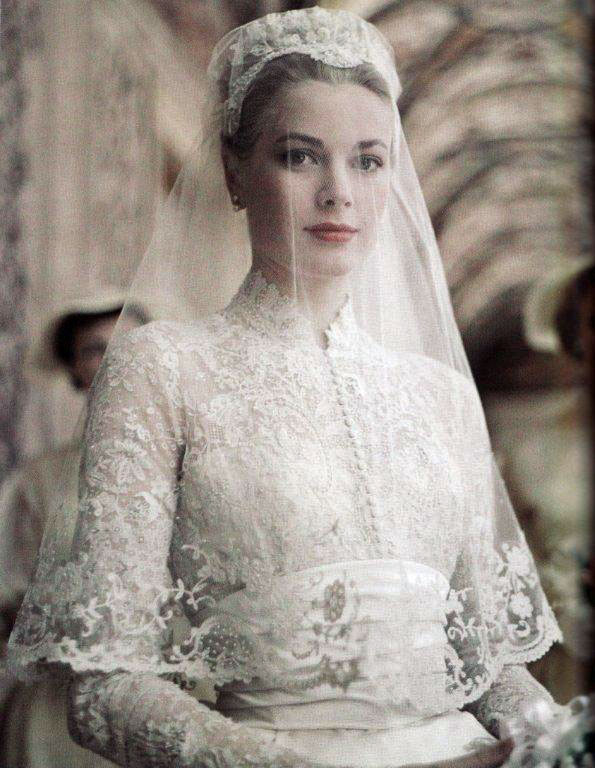 I have long been a fan of Grace Kelly, just because she is beautiful. Outwardly she epitomizes the woman I had hoped to become, beautiful, gracious, feminine, composed. I have read books about Grace Kelly and know that things were not all perfect. But I think it is okay to dream and strive for the qualities you admire. For various reasons I have a lot of role models. A more contemporary idol is Christie Brinkley. Christie was born six days before me, and I often tell people that God waved his magic wand and said, "She gets it all." (Laugh) She is tall and beautiful and talented and rich. Wow! What a combination. However, we all know that isn't all there is in life. And though I am short, and round, blond haired and green eyed, I am not too awful to view, I wouldn't change it. I have a beautiful full life with great friends and a husband who loves me. Doesn't that sound like perfection to you?
My focus here was really to tell you more about Princess Grace' wedding dress which was my inspiration for the small figure you have watched getting dressed these past weeks. In the book The Bridesmaids by Judith Balban Quine her dress is described thus: " ...contained 25 yards of silk peau de soie, another 25 of light silk taffeta, 98 yards of silk tulle, and nearly 320 yards of Valenciennes lace." " The bodice of her dress was of the Val lace. A stiffened stand up collar rose up the sides of Grace's swan-like neck, dipping into a V just at the base of her throat. The sheer lace was fitted perfectly to her shoulders and slim arms, down the full length of sleeves that ended below her wrists in scallops covering the small part of the backs of her hands. Underneath the bodice, one could vaguely distinguish the taffeta strapless underbodice. Grace's white lace covered buttons led down to a high, pleated taffeta cummerbund. Her tiny waist was emphasized by exquisitely full belled white taffeta skirt. In the front the skirt had side gathers and fell to a perfect circle on the floor. The back of Grace's dress divided to reveal masses of Val lace which, together with the taffeta, constituted her train. Again, Grace's hair was pulled straight back ... (into a ) chignon set low on the back of her head. A stiffened Val lace skull cap closely framed her head. Shaped like an inverted sweet heart neckline, with rounded points at the center and just above her ears and it was cut into semi circles above each brow. ... Her white tulle veil was bordered with Val lace. When the front of the veil was dropped over her face it reached the middle of her cummerbund. More than 90 yards of tulle tied with stiffened bows of lace and taffeta, trailed down the back of the headdress, coordinating to the same motif on the rain of her skirts. Seed pearls adorned her Juliet cap as well as the bodice of her dress."
I also read in another description from the Philadelphia museum which has her dress that the beading completely covered any seams. Amazing. I will do one more article about this dress which will show some close-ups of the details of the doll including her bouquet and will tell you about them. I want to thank you for all the personal notes and comments on this doll. I really appreciate you and your continued reading of the Creative Doll. Michelle and I want to bring you interesting, challenging and inspiration for your doll-making projects.
Kathi