Hat braid, of course, can be used to make hats. But it is very versatile and can be used to make all kind of cool accessories for your dolls and miniature settings. Here are juts a few:
Purse
- This purse was made for a Gene size doll. I have the pattern available. It also comes with a matching hat. Follow this link to see this and others: Straw Hat Patterns: For miniatures:
La Petite Belle
, for other than miniature doll size:
Evertales
.
Basket
- A great way to accessories your doll.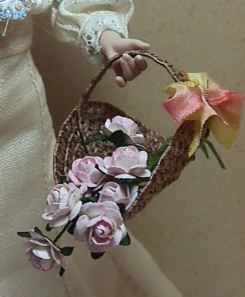 This Basket was made out of hat braid. Kathi made it and then supplied the
t
utorial
.
Shoes
- Who would have thought shoes? These terrific "wedges" were made to fit fashion dolls. They are made by
Randall Craig RTW
.I think they are totally cool! You can see hats that he has also made out of the hat straw on his website.
Big beautiful hats. What else have you used it for? Michelle minidolls.com
Find Hat Braid here:
HatBraid