"Put on your Easter Bonnet, with all the Frills upon it…"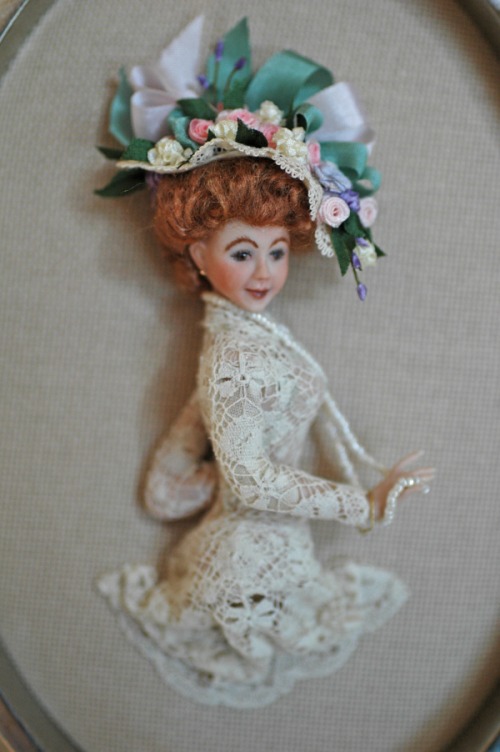 So goes the song from Easter Parade. What a wonderful movie to sit and enjoy.
Here is an exciting idea for using porcelain extra porcelain parts. (Though I have to admit to stage, this figure just as I wanted it I had to manipulate the parts for a custom fit.) I have seen the antique paper dolls that young girls used up their extra fabric and paper bits to dress. A friend of mine has a few framed and hung on her walls. It would a wonderful project to do the same with some of our contemporary paper dolls. The miniature chat group I "play with" is doing a similar project in April. I am going to play along, as it will be a lot of fun.
My pretty woman is "Miranda" a Gina Bellous doll mold. It is a 1/12th scale miniature. She is china painted. I have secured her to the linen and completed her dress, wig and accessories. I thought this would be quite easy but found aspects of the project a challenge. Working in a small scale is wonderful, but the angles required me to rethink some of my processes. All and all, I like her and think she is very pretty. I hope you like her too and will try something like this in the near future.
Kathi
minipatterns.com
And I could not resist these
Michelle
minidolls.com