A reader, after seeing our last blog post offered a pattern for you to make your own carpet bag. Her name is Shirley, she specialize in half dolls but my first love is antique french and next is the Parians. See some of her dolls here:
http://www.flickr.com/photos/shirleykdolls/
Thank-you Shirley!!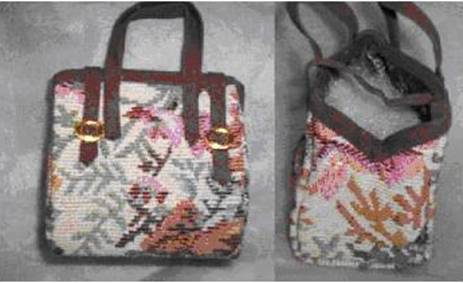 Enlarge or reduce pattern to suit size of doll
Cut 2 end pieces, 1 body piece, 1 cardboard inner
Glue piece of cardboard into base.
Fold along dotted lines and glue end pieces into place.
Using bias strip, folded in half lengthwise, glue or sew along top edge of opening, both sides. Make handles by folding and gluing more of the bias.
Handle can be one continuous length around and underneath and back up.
Depending on size, attach one center strip or two strips and add small buckles.
Thin leather is good for this also.
Refer to picture for finishing.