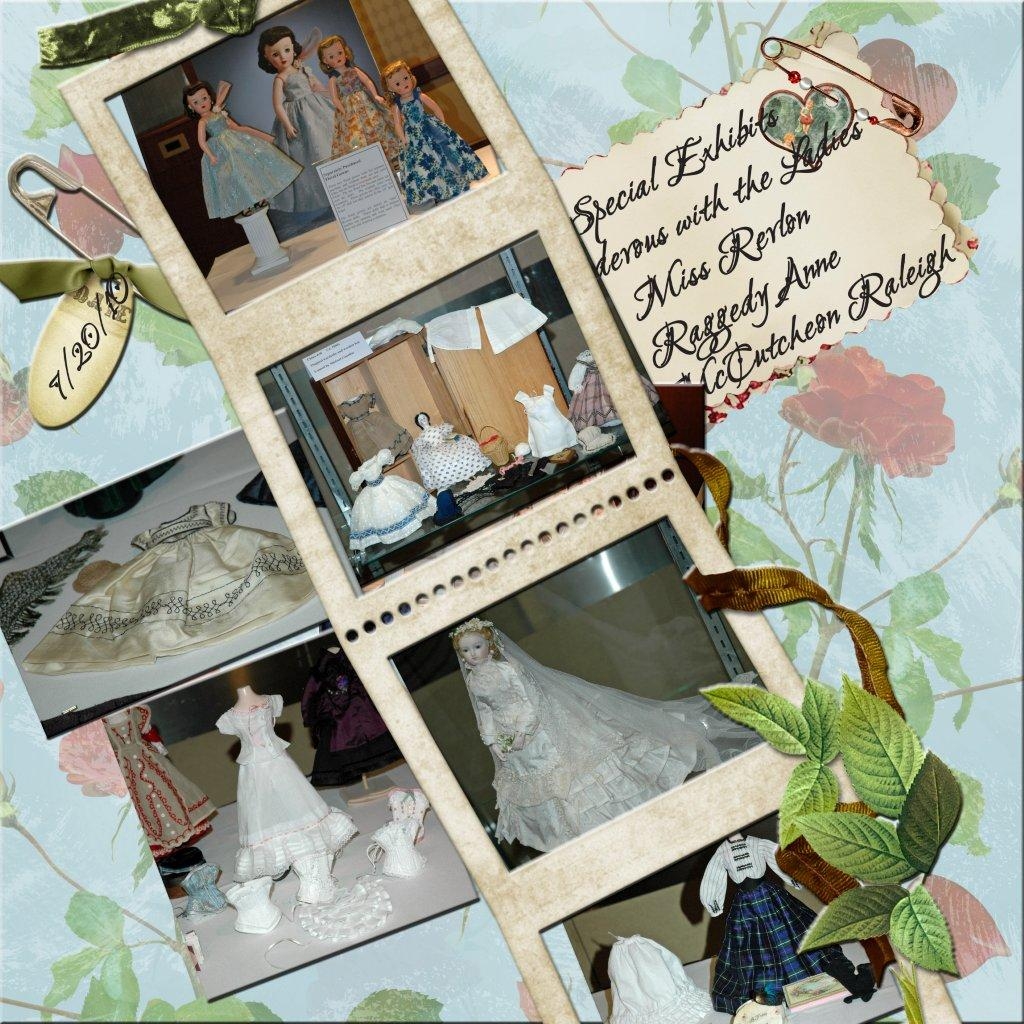 It's Tuesday and I awoke rested. Wonder of wonders! Do you think the previous day's activities helped? I hit the individual coffee maker (cute I need one of these in my studio for winter, hot chocolate, spiced teas, and flavored coffees, yummy) There were no real time pressures that morning. I relaxed, read, showered at my leisure until 9 o'clock. At 9:00 AM, the Special Exhibits opened. I wanted to see all the wonderful Ultimate Fashion Doll ™ clothes and other surprises they had in store. This was the first time I had ever loaned my things to an exhibit, so I was anxious to see the displays. The competition room would open this night at 9:00 in the evening. It would be another long day. (More than likely, a fun one, too!)
Each year the theme emphasized with Special Exhibits. Topics are developed that member with collections can share their passions. This year's theme, "My Favorite Things" brought four Special Exhibits to fore. Alice Leverett Henderson, the year's souvenir doll artist, also created the Ultimate Fashion Doll, and other exquisite dolls, brought her sculptures and some lovely items from her collection. (www.justalice.com) Those of us who owned the UFD and sewed for her brought some articles from our doll's wardrobes to share in the exhibit. There were also some EXTRAORDINARY favorite things gracing the cabinets allowing all of us to enjoy their doll passions, too.
The other Special Exhibits were just as amazing. Ladies and a Woman of Glamour featured Miss Revlon and the extraordinary collection of Robert Tonner. (http://www.tonnerdoll.com/) Miss Revlon hails from my childhood days in the mid 50's from Ideal. Raggedy Ann is celebrating her 95th year. (http://www.raggedy-ann.com/patty.html) Can you believe that? Finally, a room filled with beautiful collection of dolls from Jessie McCutcheon Raleigh of Chicago. (http://lmmontgomeryliterarysociety.weebly.com/uploads/2/2/6/5/226525/the_good_fairy_1916.pdf)
I finished looking early and really wanted to see a Program regarding Fashion Dolls of WWI. Seeing the first program underway, and a seat in the back, I popped in to hear Andy Ourant and his program, Inside the Antiques Road Show." I am so happy I did. What a wonderful speaker and his insights and descriptions of the inner workings of the show were so interesting. Another reason to be grateful for Andy's program, he went a bit overlong as our next Program, yes, the one I really wanted to see, canceled. Sigh! However, his program was a delight and I was glad I stopped in. http://www.pbs.org/wgbh/roadshow/index.html
Well, my event was exciting. I thrilled to be selected to go the themed luncheon, "Snowflakes that Stay on My Nose and Eyelashes". The luncheon hosted by the Maryland Doll club, honored Alice Leverett Henderson, and Ann Coleman presented a lighthearted slide show and discussion of doll clothes. What a delight! Since I have been discussing food choices this week, I thought I would tell you, the menu did not sound great at all. My lack of sophistication is showing. If your menu stated the first course was Avgolemono Soup, what would you do? I tried it! It is a Greek, Egg-lemon soup. Delicious! I am going to run out of superlatives. I had bread, with real butter, and Mascarpone Cheesecake with fresh fruit. I ate those, too. It did not matter; I was going to take the stairs. The beautiful Winter Ensemble, prize for attending the luncheon, for our souvenir was so pretty. I felt like a child at Christmas!
Kathi