I cannot believe it has been so long since I have posted. Where does the time go? Shame on me. But the good thing is that I have been very busy adding new things to my site. I am always on the hunt looking for new notions, trims, fabrics and what not.
For those of you who are not on my "Newsletter Subsciber Only Mailing List" now is your chance to sign up. Go to the home page of my website and
minidolls.com
and scroll down about 1" or so and right in the center is a sign up box thru constant contact. Very safe SPAM free place to sign up to get your newsletter. Which includes new item announcements and better yet subscriber only sales.
My new site allows me to track new items are they are entered. So you can always check here first for new items: The
Whats New
link is on the top bar above the xxxxxxx cross stitching.
Just to wet your apatite...I just added:
Less than 2mm in width- Real Pearls with holes:

Narrow Velvet ribbon, in 17 colors.
Tiny 4mm Metal Buttons: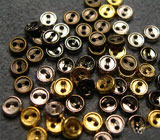 After an insanely obsessive ridiculous amount of searching I found 5mm snaps in silver and black.
100% Pure Silver Velvet- Unbelievably soft and supple. A DREAM!
Silk Satin Cord - Now in 1/4". Did you know you can remove the cording in the center of the tube and use it flat? Since it will then me a bias cut tube of silk charmeuse you can it will loop and turn corners beautifully:

I was also able to acquire a "stash" of french wired ribbon. I am not sure you are aware but the factory in France is not longer making the acetate version. Several of the largest US distributors are no longer even stocking this fabulous ribbon that has been around for so many years. If you love it...buy now and stock up as I have a limited supply...boo hoo...
Must get back to work.
Michelle
minidolls.com