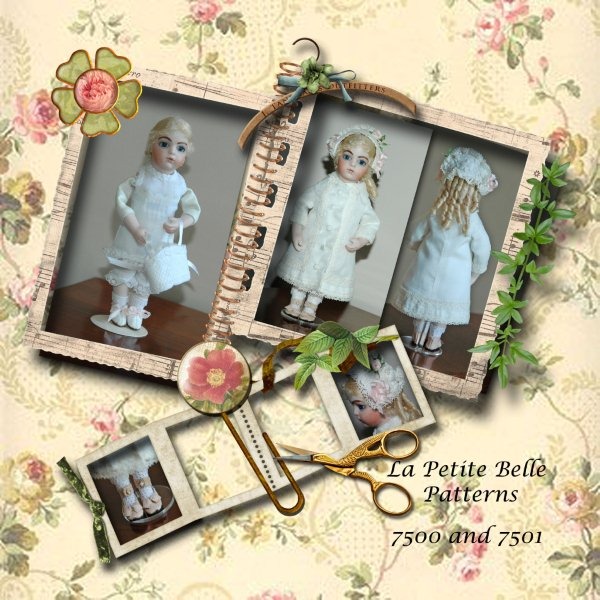 I was thrilled when I was able to buy a Cathy Hansen 6" Bru. She is so wonderfully executed and I love her "little" body. When I received her I thought she would be a more petite scale. But I have to say working with her is a dream. Though she is 6" tall her body scale is more childlike and solid. She is not chubby; nor as lithe as some 6" small dolls. To repeat, she is a dream to dress. I have attempted to make some patterns for her, but this year has caught me at a loss. I hope to continue next year adding more patterns and a new way to display her. (Is there any real new way? I don't know, either way it will be new to me to create.) Cathy has been a great associate in developing my patterns and her style is not one I can emulate. She has a knack for fabric and trims and her taste is exquisite. To see and learn more about Cathy's dolls you can visit her website: http://www.dollsbycathy.com/
When developing patterns for a new (to me) doll, I usually begin with a good set of undergarments. In pattern 7500 ($5.00) I developed a traditional pair of pantalets with a tuck and gathered lace edging, a slip that is close to the body with matching trims, a pair of socks with lace cuffs and she holds her set of stays. (They do fit her.) The little slippers are copied from an antique pair in Theriault's auction catalog named The Way They Wore. If you have this catalog they are on page 81.
I have also offered a new and simple dress of batiste and lace which caught my eye in an antique auction as well. Keep your eyes open at the auctions and in the antique shops, something there is bound to catch your eye. The elegant simplicity I thought would be a wonderful start for the 6" cabinet doll line of patterns. The hat shown with the dress did not suit my taste so I found another for inspiration. The shoe pattern is from an historical pattern but improvisation was necessary to make it fit.
The dress construction method is more 20th century as this tiny doll needed finished seams. It is lined rather than rather than the lining and dress fabrics as one and overcast the edges. I like the super finished inside on a doll such as this. The lining method gives the garment strength for the dressing and undressing. However, both methods are successful with this pattern. It fits very well and is La Petite Belle Pattern 7501. ($7.00)
Both patterns and fabrics can be purchased at the Doll Artist's Workshop by clicking here:
Cabinet Doll Pattern
Kathi