Emilie Claire is preparing for her visit to Cousin Sarah.
Sarah's father and Emilie's father are brothers.
Emilie's father is the older brother, they live in the family home, and Sarah's father works in the capital.
It is several hours by train from Emilie's home and she does not visit often during the year.
Emilie will be gone for several weeks and needs her favorite things. Packed securely in her small personal trunk are her comb and brush set, a whisk to keep her clothing clean and her favorite scent.
Emilie has laid her sewing kit out to needlepoint on quiet afternoons.
She has saved her fabric scraps and some dress drawings in her scrapbook, and a few family pictures to share with Sarah.
Kathi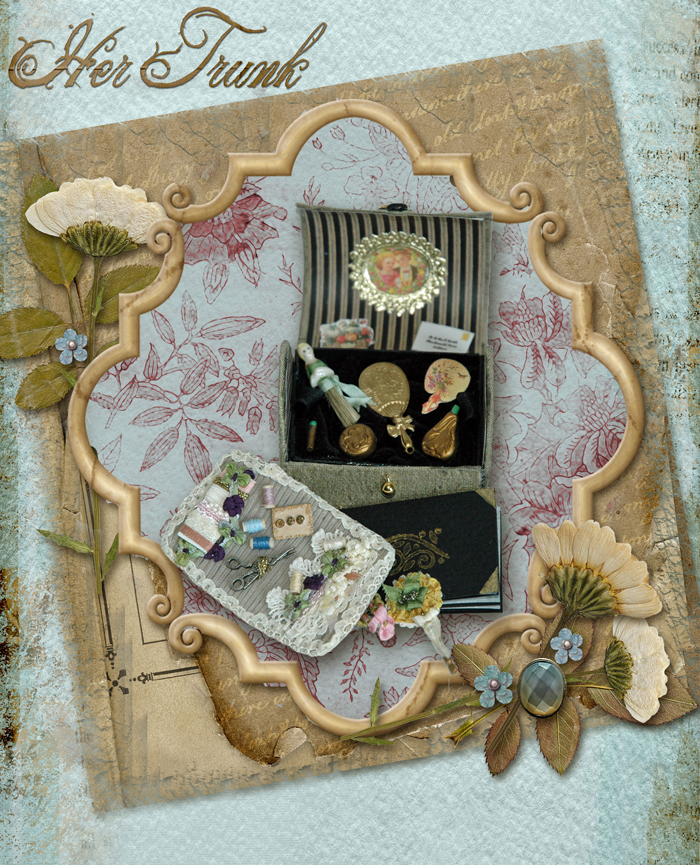 Dear Diary,
Today I worked diligently to prepare my train case.
I have tried to thing of everything.
As I place things about, I could not help thinking of how happy Sarah is with William.
She has written so much of him in the months since Christmas.
I have a suspicion they love each other.
Is an engagement announcement forthcoming?
I feel only happiness for Sarah. I wonder about William's friend, James Ian. I understand he is charming and intellectual, easily conversant. I feel anxious about our meeting. E.C.